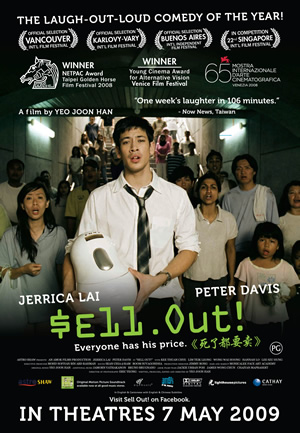 It's funny how the universe works sometimes. One day you go to the cinemas, expecting to watch a Hollywood blockbuster but instead due to "time constraints" you end up watching a Malaysian comedy....
Sell Out!, also known as $311.0u7! is a Malaysian comedy like no other! Unlike some of the greasier, gimmicky local films around which try desperately to imitate Hollywood's blockbuster success, Sell Out! goes for it's own, unique approach. It's comedy is something that's in the heart of all Malaysians and is so, very, very true. I guess you could say it's funny because it's true ;D
Well after my friends and I became big fans of this show 2 weeks later (last thurs) the directors and cast of the show came to our college! Awesome! We got as excited as little girls around cute boy bands (exaggerated) and it was a blast to watch the movie screened for the second time :-)
It was interesting though as this was a director's cut and not the commercial one we saw in the cinema - certain scenes were added, some absent but the overall comedic energy of the film was still phenomenal. This energy is really enough to change one's perception about the Malaysian film industry and feel proud to be Anak Malaysia!
We even got our picture taken with the star of the show, Peter Davis! Woohoo! Really had a blast that night. Plus it was a charity event so win~win
Sell Out! - Definately a must watch!!!!!
Life is awesome :)